Note:
Photography and filming may take place at the event for security purposes. Material may be used on social media to relation to this events. If you have any concerns, please speak to a member of the CONFERRE team (email:
info@conferre.gr
).

Conference Agenda
Download the DETAILED SCIENTIFIC PROGRAM HERE
Download the detailed Poster Sessions HERE
Program at a glance
---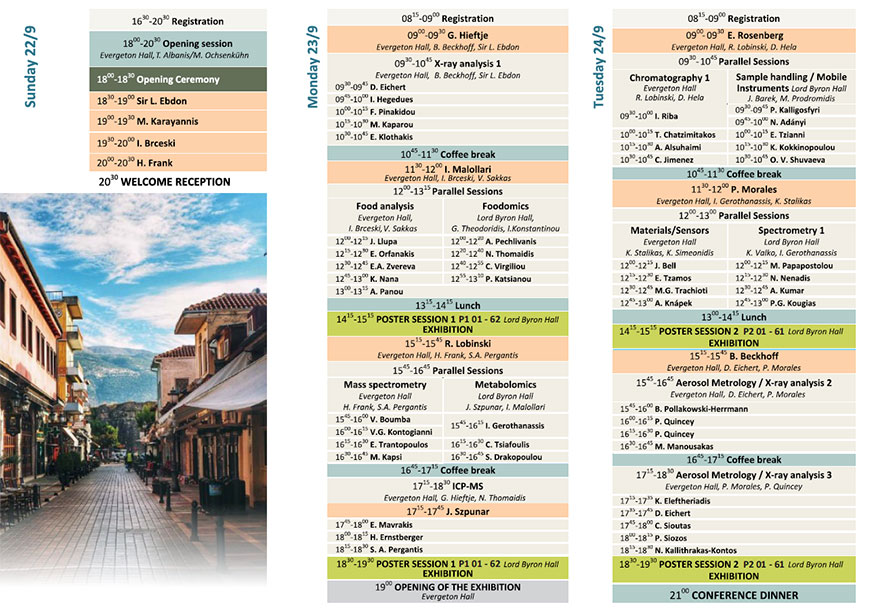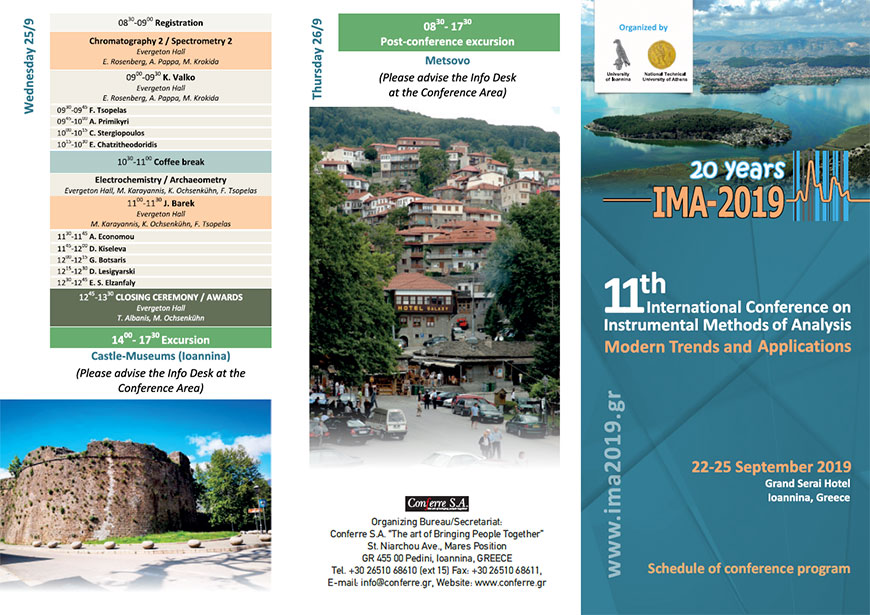 Download HERE
Special Sessions
---
• Aerosol Metrology
• X-ray spectroscopy techniques
• Instrumental methods in food analysis and omics technologies
A special session related to X-ray Spectroscopy Techniques will take place within the frame of the conference under the auspices of European X-ray Spectroscopy Association.

Young scientists (PhD/Postdoc level) participating in the session and presenting their works will receive financial support (waiving in fee, partial travel expenses covering) supplied by EXSA.
Some of the general themes that will be covered at IMA-2019 include current trends, developments and applications in:
Spectrochemical, Electrochemical, Chromatographic, Mass Spectrometric, Microscopic, Imaging and Thermal analysis methods,
Proteomics, Metabolomics, Metallomics and Elemental Speciation Analysis,
Chemical- and bio- sensors,
Field analysis - Mobile analytical instruments,
Miniaturized analytical systems (Lab-on-a-Chip), micro- and nano- fluidics,
Immunoassays, Electrophoretic separation techniques,
Robotics and Automation, Quality control-quality assurance in analysis, Metrology
Data processing and Chemometrics
Aerosol Metrology, Environmental, Biomedical (Eco-toxicological, Clinical), Pharmaceutical, Food, and Materials Analysis (Nanomaterials, Smart/ Advanced Materials, Surface Analysis), as well as Archaeometry,
Analytical chemistry markets and possibilities for commercialization.